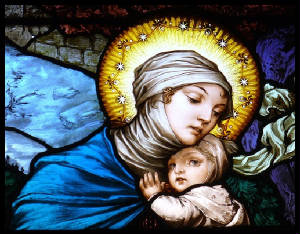 Saint Elizabeth of Hungary
Also known as Elisabeth of Thuringia; Elisabeth of Hungary, Memorial
17th November. Profile , Princess, the daughter of King Andrew of
Hungary. Great-aunt of Saint Elizabeth of Portugal. She married Prince
Louis of Thuringa at age 13. Built a hospital at the foot of the
mountain on which her castle stood; tended to the sick herself. Her
family and courtiers opposed this, but she insisted she could only
follow Christ's teachings, not theirs. Once when she was taking food
to the poor and sick, Prince Louis stopped her and looked under her
mantle to see what she was carrying; the food had been miraculously
changed to roses. Upon Louis' death, Elizabeth sold all that she had,
and worked to support her four children. Her gifts of bread to the
poor, and of a large gift of grain to a famine stricken Germany, led
to her patronage of bakers and related fields. Born 1207 at Presburg,
Hungary , Died 1231 at Marburg of natural causes; her relics,including
her skull wearing a gold crown she had worn in life, are preserved at
the convent of Saint Elizabeth in Vienna, Austria. Canonized 27 May 1235
by Pope Gregory IX at Perugia, Italy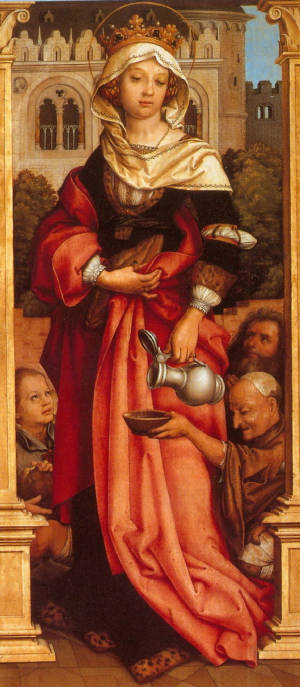 The Patronage of Saint Elizabeth
bakers; beggars; brides; charitable societies; charitable
workers; charities; countesses; death of children; diocese of Erfurt,
Germany; exiles; falsely accused people; hoboes; homeless people;
hospitals; in-law problems; archdiocese of Jaro, Philippines lacemakers;
lace workers; nursing homes; nursing services; people in exile; people
ridiculed for their piety; Sisters of Mercy; tertiaries; Teutonic Knights;
toothache; tramps; widows Representation, woman wearing a crown and tending
to beggars.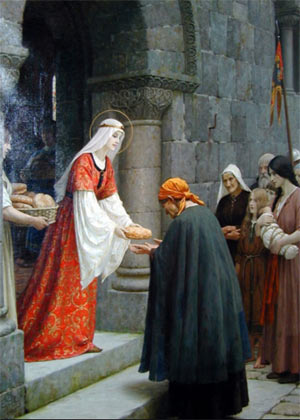 Elizabeth was a lifelong friend of the poor and gave herself entirely to
relieving the hungry. She ordered that one of her castle should be converted
into a hospital in which she gathered many of the weak and feeble. She
generously gave alms to all who were in need, not only in that place but in
all the territories of her husband's empire. She spent all her own revenue
from her husband's four principalities, and finally she sold her luxurious
possessions and rich clothes for the sake of the poor.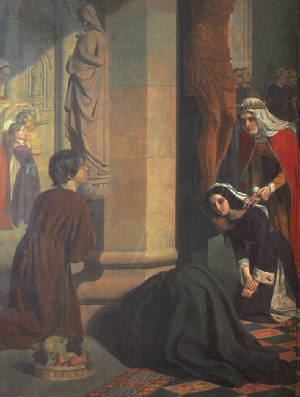 Twice a day, in the morning and in the evening, Elizabeth went to visit the
sick. She personally cared for those who were particularly repulsive; to
some she gave good, to others clothing; some she carried on her own shoulders,
and performed many other kindly services. Her husband, of happy memory, gladly
approved of these charitable works. Finally, when her husband died, she sought
the highest perfection; filled with tears, she implored me to let her beg for
alms from door to door.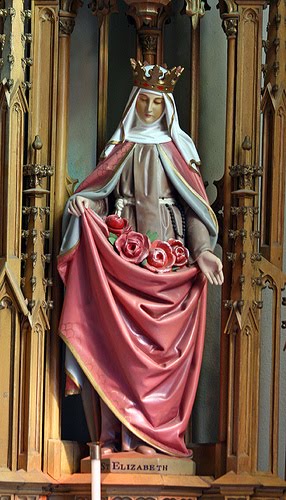 On Good Friday of that year, when the altars had been stripped, she laid her
hands on the altar in a chapel in her own town, where she had established the
Friars Minor, and before witnesses she voluntarily renounced all worldly display
and everything that our Savior in the gospel advises us to abandon. Even then
she saw that she could still be distracted by the cares and worldly glory which
had surrounded her while her husband was alive. Against my will she followed me
to Marburg. Here in the town she built a hospice where she gathered together
the weak and the feeble. There she attended the most wretched and contemptible
at her own table.