Joachim Meisner - Honorary Knight
Joachim Meisner (25 December 1933 – 5 July 2017) was a German cardinal of the Catholic Church. He was the immediate past Archbishop of Cologne, serving from 1989 until his resignation was accepted by Pope Francis in 2014. He previously served as Bishop of Berlin from 1980 to 1989, and was created a cardinal in 1983. He was widely considered to be Germany's leading conservative Roman Catholic figure. Meisner was born in Breslau, Germany (modern Wrocław, Poland). He studied in East Germany at the seminary of Erfurt from 1959 to 1962, and was ordained a deacon on 8 April 1962. On 22 December 1962, he was ordained to the priesthood by Bishop Josef Freusberg, an auxiliary bishop of the Diocese of Fulda. Between 1963 and 1975, Meisner served as chaplain at St. Giles Parish in Heiligenstadt and Holy Cross Parish in Erfurt. He also served as diocesan director of Caritas. During his pastoral ministry, he studied at the Pontifical Gregorian University in Rome, earning his doctorate of theology in 1969.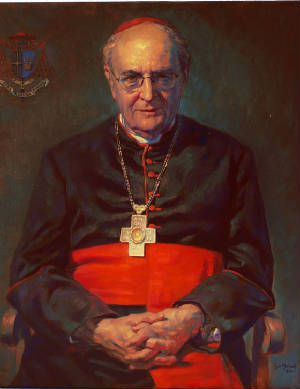 In 1975, he was elected titular Bishop of Vina and auxiliary bishop to the Apostolic Administrator Erfurt-Meiningen. He was elected as a delegate to the Fourth Synod of Bishops at the Vatican in 1977, where he renewed a friendship with Karol Wojtyła, who in 1980 as Pope John Paul II appointed Meisner Bishop of Berlin and made him Cardinal-Priest of Santa Pudenziana in the consistory of 2 February 1983. In 1988 after the death of Joseph Höffner, Meisner was named Archbishop of Cologne, a post he continued to hold until he retired. He was one of the cardinal electors who participated in the 2005 papal conclave that selected Pope Benedict XVI. Meisner was the bishop in charge for the XX. World Youth Day in August 2005 in the archdiocese in Cologne that attracted more than one million people.
On 18 September 2012, Meisner was appointed by Pope Benedict XVI as a Synod Father for the October 2012 Ordinary General Assembly of the Synod of Bishops. In January 2013, two Catholic hospitals refused to provide a "morning after pill" to a rape victim based on Church policy that treats such medications as abortifacients. Meisner apologized and approved the use of some such pills for rape victims based on the belief that they prevented fertilization and did not induce abortion. He said that if "a medication that hinders conception is used after a rape with the purpose of avoiding fertilization, then this is acceptable in my view." The German Bishops' Conference endorsed his policy on 21 February, distinguishing between different types of morning after pills. Meisner participated in the 2013 papal conclave that elected Pope Francis. At Pope Francis' inauguration, Meisner was one of the six cardinals who made the public act of obedience on behalf of the College of Cardinals. On 25 December 2013, Cardinal Meisner turned 80 and lost the right to participate in future conclaves and he submitted his resignation, which Pope Francis accepted on 28 February 2014. Diocesan administrator Stefan Heße led the archdiocese until a successor, Rainer Woelki, was appointed on 11 July and installed as Archbishop on 20 September 2014. Meisner died on 5 July 2017 while vacationing in Bad Füssing in Bavaria.