Christoph Schonborn - Honorary Knight
Christoph Maria Michael Hugo Damian Peter Adalbert Schönborn, born 22 January 1945, is a Bohemian-born Austrian Dominican friar and theologian, who is a cardinal of the Catholic Church. He serves as the Archbishop of Vienna and Chairman of the Austrian Bishops' Conference. He was elevated to the cardinalate in 1998. He is also Grand Chaplain of the Order of the Golden Fleece (Austrian branch), of which he has been a member since 1961. He is a member of the formerly sovereign princely House of Schönborn, several members of which held high offices of the Holy Roman Empire and the Catholic Church as prince-bishops, prince-electors and cardinals.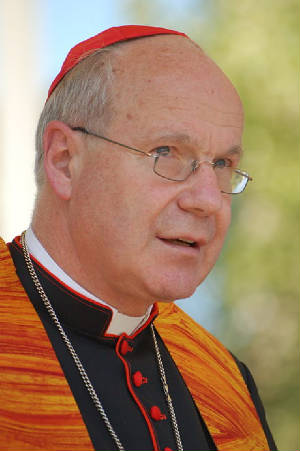 Schönborn was born at Skalka Castle, west of Litoměřice in Bohemia (then Czechoslovakia, now part of the Czech Republic), the second son of Maria Hugo Damian Adalbert Josef Hubertus, Graf von Schönborn, and Baroness Eleonore Ottilie Hilda Maria von Doblhoff. He is a member of the princely House of Schönborn whose members bore before 1918 the title of Count and the style of Illustrious Highness. Several members of the Schönborn family held high offices in the Catholic Church and, since the 17th century, the Holy Roman Empire, including several prince-bishops, cardinals and ecclesiastical prince-electors. When aristocratic titles were abolished in the First Czechoslovak Republic, after its independence in 1918, just as in Austria, his father officially lost his title of count, although titles continue to be used privately. During the war, his father Hugo Damian was involved in the anti-Nazi resistance. Following the German withdrawal from Czechoslovakia at the end of World War II, Bohemia's German-speaking population, especially the nobility, was persecuted by the new rulers, first by Edvard Beneš' post-war nationalist government and then by the new Stalinist regime, and the family fled to Austria when Christoph Schönborn was nine months old. His parents divorced in 1959. He has two brothers and one sister; his brother Michael Schönborn is an actor. He grew up in Schruns in western Austria, close to the border of the Swiss canton of Graubünden. Nevertheless, he has said that Bohemia is his home. Parts of his family live in France. Growing up in Vorarlberg, Schönborn speaks the Vorarlberg dialect as well as Swiss German in addition to Standard German. In addition to his native German, Schönborn is fluent in French and Italian, and proficient in English, Spanish and Latin. He also speaks Czech. He lived for several years in France and French-speaking Switzerland, and speaks French at a near-native level. In September 1945, his family was forced to flee from Bohemia. Schönborn took his Matura examination in 1963, and entered the Order of Preachers. He studied theology in Paris; and philosophy and psychology in Bornheim-Walberberg and Vienna. Schönborn also attended the Catholic Institute of Paris for further theological work, before studying Slavic and Byzantine Christianity at the Sorbonne. Schönborn was ordained to the priesthood by Cardinal Franz König on 27 December 1970 in Vienna. He obtained a Licentiate of Sacred Theology in 1971, and later studied in Regensburg under Fr. Joseph Ratzinger (later Pope Benedict XVI). He subsequently completed a doctorate in Sacred Theology in Paris. From 1975 he was Professor of Dogmatics at the University of Fribourg, Switzerland. In 1980, he became a member of the International Theological Commission of the Holy See, and in 1987 he became editorial secretary for the Catechism of the Catholic Church. In 1991 he was chosen to become an auxiliary bishop of Vienna.
Archbishop of Vienna
Schönborn was appointed Coadjutor Archbishop of Vienna on 11 April 1995 and succeeded as Archbishop of Vienna on 14 September 1995. He was created Cardinal-Priest of Gesù Divin Lavoratore by Pope John Paul II in the consistory of 21 February 1998. Considered among the papabili following John Paul's death, Cardinal Schönborn was one of the cardinal electors who participated in the 2005 papal conclave that selected Pope Benedict XVI, and in the 2013 papal conclave that selected Pope Francis. Cardinal Schönborn remains eligible to vote in any future papal conclaves for papal vacancies occurring before he reaches 80 on 22 January 2025. He has been Chairman of the Austrian Bishops Conference since 1998 when he was elected to the first of four six-year terms. Schönborn serves as a member of the Congregation for the Doctrine of the Faith, that for the Oriental Churches, and that for Catholic Education, and of the Pontifical Council for Culture and the Pontifical Commission for the Cultural Heritage of the Church. On 5 January 2011 he was appointed among the first members of the newly created Pontifical Council for the Promotion of the New Evangelisation. On Saturday, 30 November 2013, Pope Francis confirmed Cardinal Schönborn as a Member of the Education Congregation. Cardinal Schönborn also serves as the Grand Chaplain to the Austrian Order of the Golden Fleece. Schönborn's episcopal motto is Vos autem dixi amicos (I have called you friends) from John 15:15. Acting as Pope Benedict XVI's personal representative as well as in his own capacity as archbishop, Schönborn presided over the Funeral of Otto von Habsburg, former Crown Prince of Austria-Hungary, in St. Stephen's Cathedral on 16 July 2011. On 18 September 2012, Schönborn was named by Pope Benedict XVI as a Synod Father for the October 2012 13th Ordinary General Assembly of the Synod of Bishops on the New Evangelization. Schönborn visited Iran in February 2001 and met with Ayatollah Ali Khamenei. Schönborn was one of the highest-ranked Catholic Church officials to visit the country since the 1980–88 Iran–Iraq War. Schönborn has been described as an accomplished crisis manager. He has a close relationship with Pope Benedict XVI, whom he has known for decades, and has been referred to as Benedict's "spiritual son".