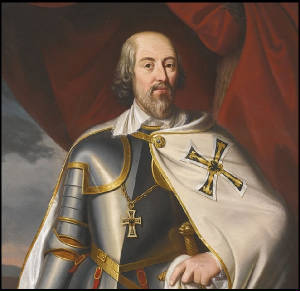 Heinrich Walpot von Bassenheim
Heinrich Walpot von Bassenheim (died 1200), also known as Henry Walpot, was the first Grand Master of the Teutonic Knights, serving from 1198 to 1200. As little is known about him, information regarding the Grand Master is mostly based on historians' theories. Walpot hailed from a rich family from Mainz. He was in favour of turning the organization into a military order. In 1199 he received a copy of monastery rules from Gilbert Horal, the Grand Master of the Knights Templars, and on behalf of Pope Innocent III. It was based on the rules of the Templars. Walpot died and was buried in Acre.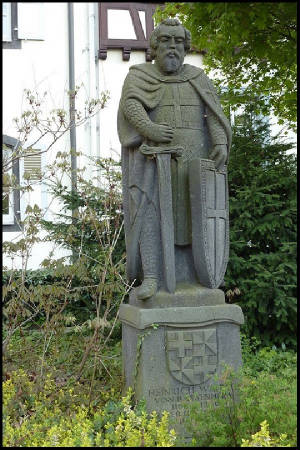 Heinrich I Walpot von Bassenheim - 1198-1200
Heinrich Walpot von Bassenheim (auch Henry Walpot; † 1200) war der erste Hochmeister des Deutschen Ordens in der Zeit von 1198 bis 1200. Heinrich stammt aus der Familie der Waldbott von Bassenheim, ein rheinisches Adelsgeschlecht, benannt nach der Ortschaft Waldmannshausen (heute ein Ortsteil der Gemeinde Elbtal) bei Hadamar und nach Bassenheim. Die wenigen Informationen, die über ihn bekannt sind, stammen häufig lediglich aus Theorien von Historikern. Aussagen müssen daher immer wieder auf ihre ursprünglichen Quellen hin überprüft werden. Es gelang ihm die Organisation des Deutschen Ordens in einen nunmehr auch militärischen Ritterorden umzuwandeln. 1199 bekam er dazu eine Kopie der Klosterregeln von Gilbert Erail, Hochmeister der Templer. Es basierte auf den Regeln der Templer. Er hatte auch die Unterstützung von Papst Innozenz III. Heinrich wurde in Akkon begraben.